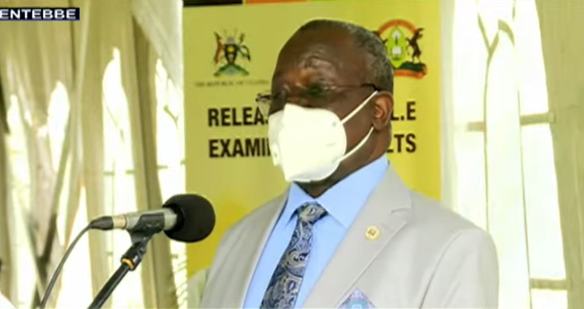 Heads of government schools have been cautioned not to register privately sponsored students as government sponsored candidates in the ongoing registration for UNEB 2020 examinations.
In a statement to the press, UNEB Executive Director Dan Odong said this fraudulent practice causes financial loss to government and any headteacher who indulges in such an act shall face the law and pay twice the amount defrauded.
With less than a week before the end of the registration period for the 2022 examinations, Mr Odong warned parents and guardians who are yet to register potential candidates, to pay registration before 31st May, 2022, to avoid paying surcharge.
In a press statement, UNEB noted that so far, data for 93% of the expected Primary Leaving Examinations (PLE) has been submitted while 63% of Uganda Certificate of Education (UCE) and 54% of the Uganda Advanced Certificate Examinations (UACE) candidates' data has been uploaded. This translates to One Million Fifty Five thousand, three hundred and thirty six (1,005,336) candidates registered at all levels.
The normal examination registration period ends on May 31, while late registration will take place next month in June.
UNEB has maintained registration rates for PLC candidates at UGX.34,000, UGX.164,000 for UCE candidates while UACE candidates pay UGX.186,000 as normal fees. However, for late registration, UPE candidates will pay a total of UGX.68,000, UGX.246,000 for UCE and UGX.178,000.
Mr Odongo also urged headteachers and District/municipal/city municipal inspectors of schools to display registers of candidates registered in a conspicuous place at the school and district noticeboards by 13th August 2022 in order to facilitate parents and guardians to confirm registration status for their learners. Relatedly, UNEB will provide the SMS option for parent s to confirm registration status of candidates by typing; Reg, Space, Index number and send to 6600.
Heads of centers of government-aided schools to upload the candidates data as soon as possible to minimize challenges related to last minute submission.
<