The Minister for Health Dr Jane Ruth Aceng has said health workers in Uganda are doing all it takes to fight the COVID-19 pandemic but insults and abuses from the public discourages them.
Speaking during a press briefing today, Dr Aceng said Ugandans who are not happy with the ministry's work delivery should formally address their concerns to relevant offices rather than ridicule and insult health officials.
The minister's concern comes a day after unknown people dumped a coffin at Mulago Hospital with placards demanding the sacking of MOH Permanent Secretary Dr Diana Atwine. The act is seemingly a gesture of protest and a display of displeasure among sections of the public over government's COVID-19 management strategy.
Dr Aceng says people should learn to give credit where it is due considering the efforts and achievements her ministry has registered ever since the pandemic broke out in Uganda.
"I would like to condemn in the strongest terms possible the acts of throwing coffins, threatening our Permanent Secretary and abusing health workers is unacceptable. People should learn to give credit where it is due. We are doing all it takes to ensure that we control this pandemic and the country resumes it's economy. However, such discouraging acts takes people backwards." She said.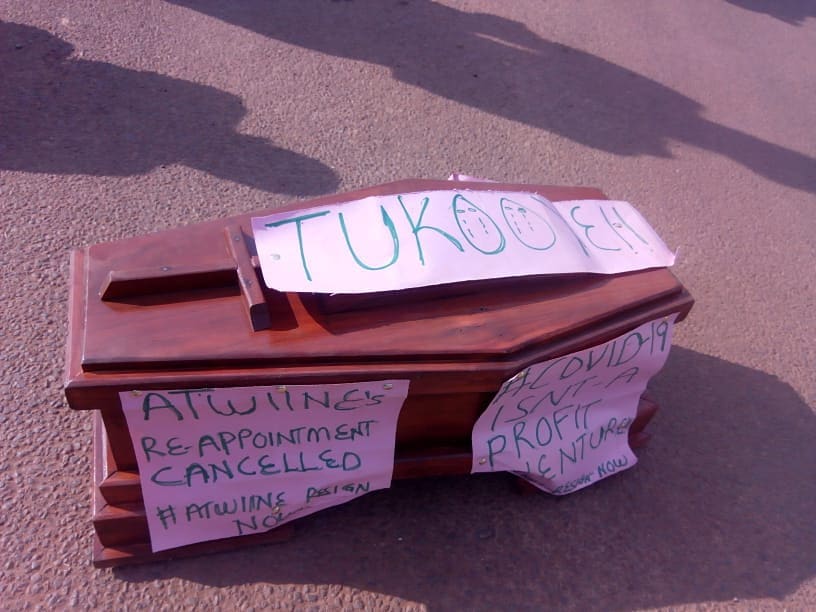 In her nation address on progress in the fight against COVID-19, Dr Aceng listed government's achievements ranging from procurement of Ambulances to COVID-19 vaccines. During the COVID19 pandemic, She said government procured 116 ambulances (111 type B ambulances, 5 type C of which 3 are boat ambulances) to augment the existing fleet of 178 ambulances.
"In addition, eleven more boat ambulances and 6 type B road ambulances have been procured and are expected in the country soon. These ambulances were distributed to all regions of Uganda while the 3 boat ambulances were placed in the islands of Kalangala, Buvuma and Lake Kyoga currently being used to transport both COVID-19 and non-COVID-19 patients to the health facilities." She adds.
As far as vaccination is concerned, Dr Aceng said a cumulative total of 902,293 people have received the 1st dose of the vaccine while 232,743 have received the 2nd dose of the vaccine. A total of 1,139,260 doses of the AstraZeneca vaccine has been issued to the population countrywide.
"Government will use a multi- pronged approach to secure COVID-19 vaccines through purchase of vaccines through the COVAX facility, the African Union or directly from manufacturers. An order of 2 million doses of the Johnson and Johnson COVID-19 vaccines have been signed up with the African Union and a down payment of USD 3 million has already been effected. Another order of 9 million doses of the AstraZeneca vaccine has been placed with the COVAX facility for which government awaits feedback on availability" She stated.
Minister Aceng noted that the MOH has generated a priority list of COVID19 vaccines, that can be used in Uganda including; AstraZeneca, Johnson and Johnson, Pfizer BioNTech, Sinovac, Sinopharm, Sputnik V, Sputnik Lite and Moderna. She however said this list will be revised as more vaccines undergo Emergency use Licensure by WHO and the National Drug Authority (NDA).
The minister stated that government has also begun procuring 3 cryogenic (liquid) oxygen plants to be installed in 3 regions and additional Pressure Swing Adsorption (PSA) plants (Gaseous Oxygen plants) to supplement the existing ones at National and Regional Referral Hospitals.
"I want to appeal to all of us to avoid such insults and abuse. Our PS has severally given accountability to many follow-ups. we no longer what kind of accountability what people are looking for. But if you want accountability, it is better you ask for it rather than display such terrible acts." She added.
<