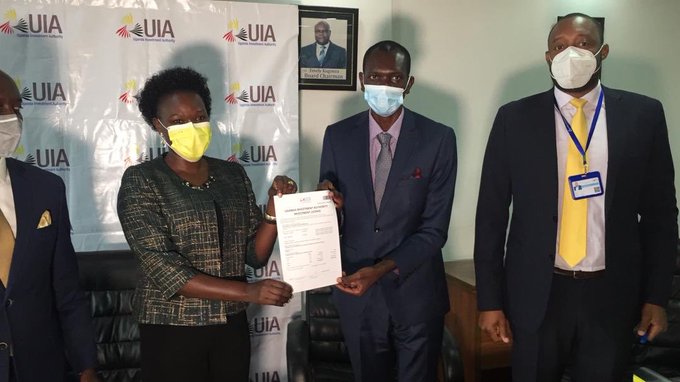 The Uganda Investment Authority (UIA) has issued an official investment license to Prof. Patrick Ogwang which will enable him enter the formal process of manufacturing COVIDEX – a herbal medicine in treatment of COVID-19.
During an engagement today morning at UIA offices in Kampala, the state minister for Investment Hon Evelyn Anite handed the copy of the license to Prof. Ogwang, a development that is seen as critical in supporting the local innovator scale up the production of COVIDEX.
The drug, made by Mbarara University scientists led by Prof Patrick Ogwang, had generated debate over its efficacy in treating the dreaded COVID-19 and recently received approval by National Drug Authority (NDA) the country's drug regulatory body.
Besides the issuance of license, UIA also provided 5 acres of land in Soroti Industrial Park to enable Prof. Ogwang set up a factory to enable him develop his product and to enable growth of the pathogenic economy in Uganda. The move is expected to boost the production of COVIDEX to satisfy the increasing demand for COVID19 herbal remedies within Uganda and across the borders.
In an interview with the media last month, Prof Ogwang credited President Museveni for the support in advancement of COVIDEX as an innovation amid bureaucracy in government offices and disagreements between his team and Mbarara University.
At the function, Prof. Patrick Ogwang and his team also had discussions with UIA officials led by the minister on the pathogenic economy and how the government can help champion and support local scientists and innovators.
Following NDA's approval, the Drug Authority stressed that COVIDEX does not cure Covid-19 but it can supplement the medicine being used by medics to treat Covid-19 patients. Despite huge public approval, NDA said it will continue to monitor the safety of Covidex through its post-market surveillance activities.
<