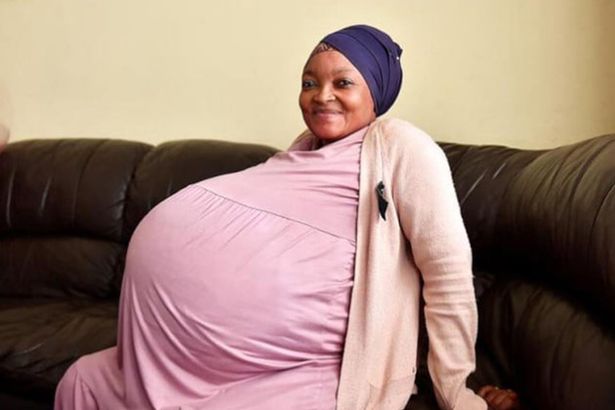 The South African government has taken to Twitter in a desperate attempt to find a woman alleged to have given birth 10 babies recently.
Gosiame Thamala Sithole made international headlines and almost broke the internet for smashing the world record when she gave birth to 10 babies.
The director-general of the government's communications team this week said they have been trying to find Gosiame Thamara Sithole but they haven't been able to find her anywhere. Government says they want to help her.
Local and international media reported how Gosiame (37) from Tembisa in the municipality of Erkulheni, gave birth to the seven boys and three girls through Caesarean section and at 29 weeks. She was claimed to have broke the record for the greatest number of babies delivered from Halima Cisse of Mali, who had nine kids in May.
Now, the government has appealed on social media for information on the alleged new mum. Worries are also mounting over the whereabouts of Gosiame with a missing persons case opened, according to reports.
In a twist of events, Teboga Tsotetsi, Gosiame's husband who was reportedly "happy and emotional" after the birth of his 10 children, has also requested people stop donating money to his wife whom he says "he still hasn't seen." Tsotetsi has reportedly said he has 'not seen proof the decuplets exist'.
"I appreciate the financial support that we have been getting from members of the public, but I also would like to appeal to the public to stop making money deposits into our accounts until members of the community have seen the babies," Tsotetsi told local newspaper Pretoria News, according to the Daily Mail.
Not only has Tsotetsi not yet seen his children, but he hasn't seen his wife since she left home on June 7. While she has purportedly given birth to decuplets the Sunday Times reported that local authorities have been unable to trace Sithole to any public or private hospitals.
In another report, Daily Mirror quoted a statement from his family saying they have therefore concluded "there are no decuplets born between their son and Gosiame Sithole until proven otherwise".
The statement from the Tsotetsi family, reported by News 24, read: "He (Tsotetsi) made several attempts to visit his girlfriend and the babies but she has failed to disclose her whereabouts and the condition of their babies.
"The current uncertainties and public discourse about the decuplets is of major concern to the family, especially in the absence of any proof of the decuplets existence other than telephonic and WhatsApp messages from the mother.
Pretoria News purportedly has all the details of the delivery but is holding publication due to "cultural and religious reasons."
Tsotetsi, meanwhile, said he is excited to eventually meet his children, whenever they may be. He also accepted over $70,000 in public donations for the couple in Cape Town.
<