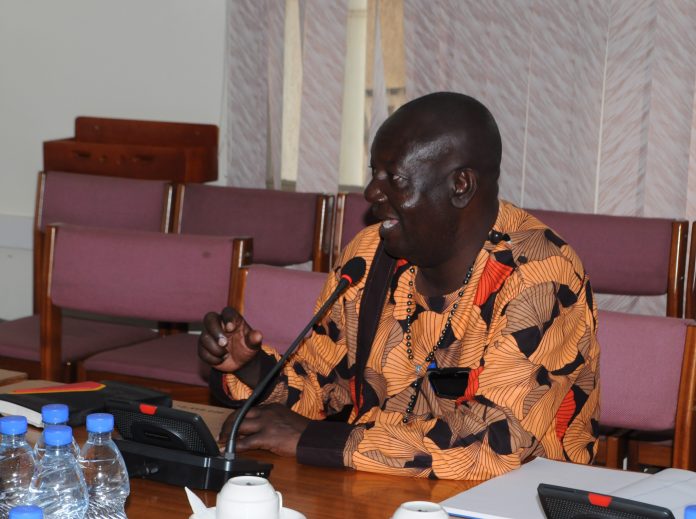 Jonam County MP Hon. Ongiertho jor Emmanuel has told the disciplinary committee of parliament that Hon. Francis Butebi Zaake was unruly, disrespectful and embarrassed Prof. Barnabas Nawangwe.
He said the conduct of the Mityana MP during a confrontational encounter with Makerere University Vice Chancellor Prof. Barnabas Nawangwe last month in parliament, was disrespectful, and he felt uncomfortable sitting next to a fellow MP acting in such a manner.
Hon. Emmanuel was testifying to the disciplinary committee of parliament during a probe into Hon. Zaakes conduct on 6th Nov, when Prof. Nawangwe appeared before the Education committee of parliament to respond to issues related to management of Makerere University.
"Every time the Chairperson of the committee tried to control him, he could not listen, and kept interrupting everyone" Hon. Emmanuel said.
Hon. Emmanuel who claims he sat next to Zaake during probe committee proceedings in which Nawangwe was a witness, said he thinks Zaake went personal when he started accusing the Prof. for deploying girlfriends and other people to threaten university students.
"You could see that the Vice Chancellor was uncomfortable, and I think that was more personal; at our level (MPs), I didn't expect that it would go to that point" He said.
Regarding an allegation that Zaake was overheard telling unknown people that he was going to beat Prof. Nawangwe, Hon. Emmanuel said he knows Zaake as a person who loves acting to cameras citing an incident during the age limit debate when he intimated to him about the importance of acting to the camera.
He however said he did not hear Zaake making telling anybody that he was going to beat up Prof. Nawangwe, but he knows Zaake as a person who loves acing to cameras.
"It's like for him acting for TV is important am not surprised to him, acting to the camera and TVs is important"
On Monday, the chairperson of the Education committee Hon. Opolot Jacobs told the disciplinary committee that Zaake was overheard telling people to watch news on TV because he was going to beat Prof. Nawangwe.
Early in the day, the committee reviewed the CCTV footage of parliament inquiring to know what exactly happened on the day Zaake is alleged to have attacked Prof. Nawangwe. The footage however did not show Zaake assaulting Nawangwe because the conference hall which was the venue of the meeting.
Commandant of Police Division at Parliament Anabelle Nyiramahoro replayed parts of the CCTV footage captured on that day, but the absence of cameras in the committee room undercut efforts to get the exact picture of what transpired on that day.
Hon Francis Zaake was scheduled to defend himself before the parliamentary committee on Rules, Privileges and Discpline on Wednesday, but proceedings did not commence since MPs were held up by City traffic jam and could not make it on time.
<