Bonheur Malenga, a Congolese university student, found himself facing a dilemma one day last month about whether to purchase online data.
He lives in Kinshasa, capital of the Democratic Republic of Congo, where 26% of average monthly income is spent on getting online using mobiles – the easiest way to access the internet here.
The 27-year-old, who is studying engineering, relies on his parents for financial support – but has been spending more than usual as he has been doing research online for his final-year dissertation.
"As I was hungry, I didn't know if I should buy food or get a 24-hour internet bundle. I told myself that staying hungry for a day and a night wouldn't kill me. So, I just bought the internet bundle and slept on an empty stomach," he said.
DR Congo is ranked as the most exepensive country to get online in the world according to the 2019 Affordability Report from the Alliance for Affordable Internet. The organisation determines affordable internet as paying 2% or less of your average monthly income for 1GB of mobile broadband data.
Mr Malenga says many of his friends face the same dilemma.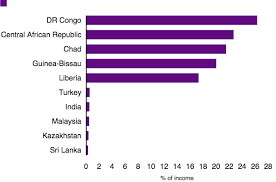 <