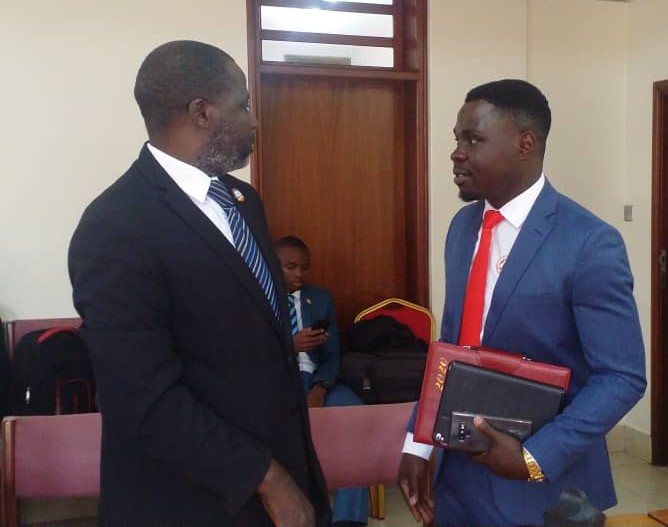 The proceedings of the disciplinary committee of parliament probing allegations of misconduct against Mityana Municipality MP Francis Zaake stalled after the legislator demanded for a transcribed copy of evidence against him.
The parliamentary committee of Rules, Privileges and Discipline had sat today to hear Zaake's side in allegations that he acted in a manner that puts the image of parliament in disrepute when he violently confronted Makerere University Vice Chancellor Prof. Barnabas Nawangwe, on the day he appeared before the parliamentary Committee of Education and Sports last month.
Despite having been furnished with an audio recording of the committee proceedings in which Prof. Nawangwe pinned him on disrespect and slander, Zaake demanded for a transcribed copy of all evidence the committee received saying he cannot respond before a transcribed copy is adduced.
A seemingly confidence Zaake, pleaded that he had had inadequate time to listen to a 6 hour recording he was given by the committee, and asked for two weeks to internalize the complaints against him before tabling his defense.
Efforts by the committee chair and several committee members to have Zaake at least give an account of what transpired between him and prof. Nawangwe hit a snag, with Zaake insisting that he cannot give evidence against himself since he has not listened to what his accusers said.
'Hon. Chair, with all due respect, I don't think I can give evidence against myself. As far as I am aware, it is my right to first look at the complaint letter. I need a copy of transcribed records of complaints against me" Zaake said.
The plea however was denied by the chairperson, and Zaake was given two days to listen to the recordings and revert to the committee to defend himself on allegations of misconduct acting in a manner that was unbecoming of a person of the membe of parliament.
In his letter to parliament, Prof. Barnabas Nawangwe stated that on the fateful day, he felt that the treatment he received from Zaake was beyond what any human being can expect from another human being, leave alone a member of parliament.
He says he was disrespected, insulted and Zaake went personal to the extent that if he was not saved by MPs, Zaake would have beaten him up.    
<