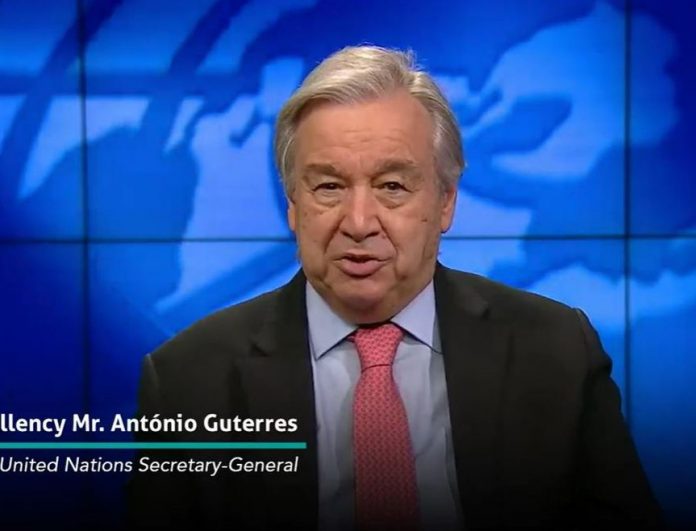 United Nations has appealed to coup plotters in Myanmah to immediately stop repression on citizens amidst violent crackdown by the military on protesters following a government takeover early this month.
UN chiefs made the call during the opening of the organizations first and highest-level meeting of 2021, amid growing concerns on increasing cases of human rights across the globe.
The military coup and violent crackdown on protesters in Myanmar since February 1, was among the most pressing issues on the council's agenda.
"Every corner of the globe is suffering from the sickness of violations of human rights," said U.N. Secretary-General Antonio Guterres.
"Today, I call on the Myanmar military to stop the repression immediately, Release the prisoners. End the violence. Respect human rights and the will of the people expressed in recent elections. Coups have no place in our modern world" -Guterres said.
The military on February 1 arrested civilian leader Aung San Suu Kyi in a coup that has drawn widespread international condemnation. It has since launched an increasingly bloody crackdown on pro-democracy demonstrators who have taken to the streets en masse to denounce the takeover.
The U.N.'s top human rights body was opening its first and highest-level meeting of 2021, amid growing concerns on issues including the military coup in Myanmar, the arrest of Russian opposition leader Alexei Navalny and the rights situations in countries including Ethiopia and Sri Lanka.
The session, almost exclusively online, comes as the fight against COVID-19 has become a pretext by some governments to curb human rights, and worsened gender inequality and extreme poverty — even as vaccination efforts have largely been carried out in the world's richest countries.
This week, European Union foreign ministers agreed to impose sanctions on Myanmar's military over its coup earlier this month and withhold some development aid, as well as blacklist Russian officials for the jailing of Kremlin critic Alexey Navalny.
Some Western powers voiced a laundry list of rights concerns. British Foreign Secretary Dominic Raab cited a "dire and shocking situation" in Russia and said it was "disgraceful" that Navalny, a vocal critic of President Vladimir Putin, had been sentenced on "arbitrary charges" after being poisoned last year.
Guterres also decried racism, discrimination, xenophobia and the "transnational threat" of white supremacy and neo-Nazi movements — saying such groups are "engaged in a feeding frenzy of hate."
<