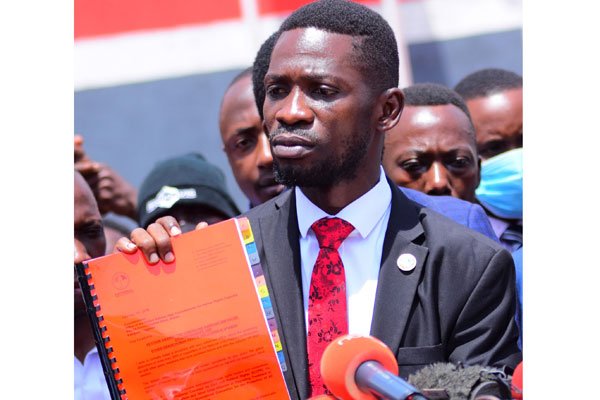 The Supreme Court today rejected the application by former presidential candidate Robert Kyagulanyi, alias Bobi Wine seeking to file additional affidavits in support of his petition challenging the victory of President Museveni in the January 14 elections.
On Wednesday, Kyagulanyi, the leader of Opposition National Unity Platform (NUP) party, filed an application seeking court's permission to allow his additional 127 affidavits, which the court had rejected on account of being filed out of time.
In a 8-1 majority, Supreme Court justices dismissed the application on grounds that the attempted filing evidence was conducted out of time.
In his application, Kyagulanyi argued that the additional affidavits comprising statements, videos, photographs and audio recordings are essential in the petition to enable the court to effectively inquire into, and determine all questions involved in the matter. He also contended that the application was brought without delay because of the prevailing "special circumstances" that warranted its permission.
On Monday, Chief Justice Alfonse Owiny-Dollo issued a memo directing the court registrar, Ms Harriet Nalukwago, to inform Mr Kyaguanyi's lawyers that the said affidavits were filed out of time.
During the opening of pre-hearing session last week, Kyagulanyi's lawyer Medard Sseggona asked court to grant his client more time to file additional evidence a plea the Chief Justice Alphonse Owiny Dollo granted. Dollo gave Bobi until 14th February 2021 to file any other evidence in form of affidavits but also cautioned parties in the presidential petition against stampeding court seeking to file out of time.
The rejected documents included affidavits by NUP party lawyer Benjamin Katana and secretary general David Lewis Rubongoya, Mukono Municipality MP Betty Nambooze, who was re-elected on NUP ticket, and other sworn statements by jailed singer Buken Ali, aka Nubian Li, and veteran journalist Kalundi Serumaga.
The respondents in the petition are Mr Museveni, the ruling National Resistance Movement (NRM) whom the Electoral Commission (EC) declared winner of the January14 election, the EC and the Attorney General.
<