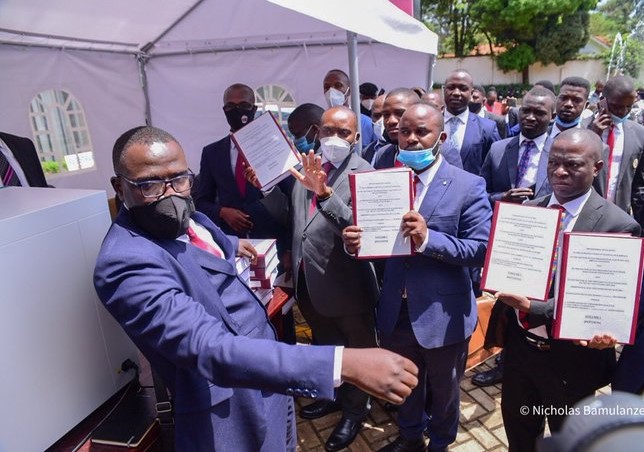 National Unity Platform (NUP) party and Robert Kyagulanyi's lawyers, have successfully served president Yoweri Museveni with a copy of the presidential election petition, challenging the outcome of the 14th January election which gave the latter victory.
The lawyers led by Anthony Wameli, successfully handed copies of the presidential petition to Museveni's lawyer Kiryowa Kiwanuka of KK and Co advocates, in a bid to challenge the outcome of the 14th January election which gave Museveni victory.
Museveni's lawyers received the petition on Wednesday at the Supreme Court in Kampala. Since the filing of the petition on Monday, the NUP lawyers have been attempting to serve Museveni in person without success.
The NRM party Secretary General, Hon Kasule Lumumba who witnessed the receipt of the petition said the lawyers received the petition following Museveni's instruction. Lumumba noted that the NRM party will expeditiously embark on assessing the grounds as set out in the petition and prepare an appropriate defense.
"We're going to look at the grounds in the petition as we wait on court for the programme. Everything was done with in the law and we have our Declaration Forms ready" Lumumba said after receiving NUP's election petition.
Lumumba insists that the whole election process which saw the NRM candidate and the incumbent president Museveni emerge winner, was conducted within the law, and appealed to NRM members to be ready to defend "their" victory.
"I want to tell all members of NRM who voted for His Excellency Kaguta Museveni, that everything was done within the law and we have our Declaration Forms ready; And when you are called on to come and swear an affidavit, please do come, because we must defend our victory" she said.
Presidential Petition Rules 2001 says "Presentation of a petition shall be made by the petitioner leaving it in person or, by or through his or her advocate, if any, named at the foot of the petition, at the office of the Registrar within ten days after the declaration of the results of the election"
On 16th January, Museveni was declared winner with 5,851,037 votes representing 58.64 percent against Kyagulanyi's 3,475,298 votes representing 34.85 percent as provisional results, which was on January 28th finally updated to 6,042,898 votes for Museveni representing 58.38% and 3,631,437 votes for Kyagulanyi representing 35.0% of the total valid votes cast.
But Kyagulanyi disputed the results, hence petitioning the Supreme Court seeking for annulment of Museveni's victory.
Kyagulanyi argues that the election process was not free and fair as it was characterized by a number of irregularities including fraud, voter bribery, intimidation, and violence that resulted into loss of lives, arrests among others.
<