The standoff within the leadership of Inter-Party Organization for Dialogue (IPOD) has finally been resolved with a hand over from Democratic Party (DP) to the Forum for Democratic Change (FDC) party, but the ruling party National Resistance Movement (NRM) snubbed the event.
The hand over ceremony took place at Fairway Hotel in Kampala on Wednesday, but no representative from NRM attended.
According to the Spokesperson of the ruling NRM Mr. Rogers Mulindwa, NRM was not formally invited to the event, and senior officials of the party were not aware that the handover of IPOD was taking place today.
Mulindwa says all they received was a whatsup message which is not a formal way of communicating events of IPOD. He says they expected a written communication as the practice has been before.
Mulindwa however noted that the absence of NRM at the event is a big blow and it "hurt" them so much to have missed out on such an event.
IPOD is a platform that brings together parties with representation in parliament including the National Resistance Movement (NRM), Forum for Democratic Change (FDC), Democratic Party (DP), UPC and Justice Forum (JEEMA), and NRM has all along been regarded as the biggest beneficiary, and enthusiastic in the operations of IPOD.
Efforts to reach the Acting Secretary General of DP for a comment were futile as our phone calls remained unanswered.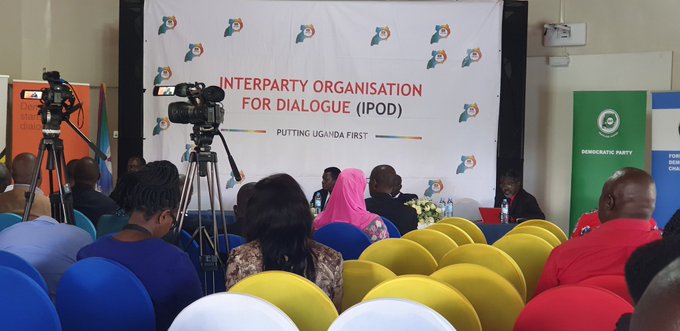 IPOD leadership rotates among subscribing parties. The term of DP expired on September 20th, 2019, and DP was expected to handover the IPOD leadership to FDC but this didn't happen. DP said FDC hadn't been committed to IPOD, which made it doubtful if they could take over and commit to its leadership.
However, DP President general Nobert Mao disputed the fact that they have ever hesitated handing over and boasted to have been a political party that believes in transfer of power.
The Secretary General of the FDC Hon. Nandala Mafabi said he will ensure transparency in operations of IPOD, and committed to ensure that accountability is observed.
DP had demanded that FDC writes to commit to lead IPOD, a proposal that was flatly rejected by Uganda's biggest opposition party, saying the parties are guided by a Memorandum of Understanding- MoU, which says each party should hold power for six months and handover. The MoU, FDC argued did not demand writing a commitment letter.
Although FDC took over the IPOD leadership, it has been known to be critical to some of its activities and they have been boycotting some of events the latest being the IPOD summit in 2018 and May 2019. FDC claims NRM is behind the crack down on opposition events by use of security agencies. 
<