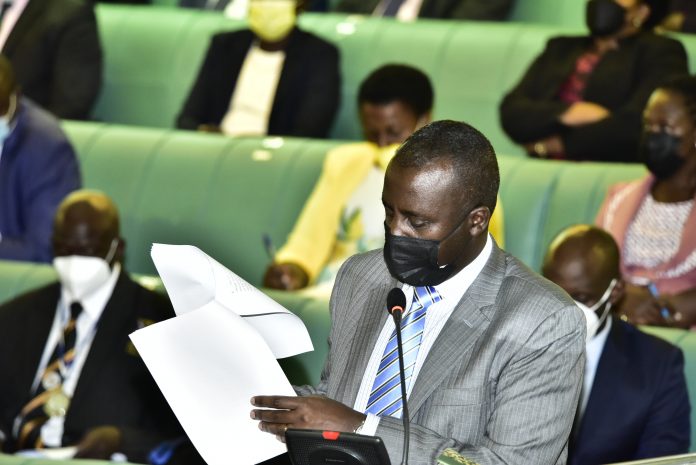 Government through the Ministry of Internal Affairs has reported that 26 people have so far been killed in the new wave of insecurity in Greater Masaka while several others are nursing injuries due to criminality that hit the area since June.
According to a report which was tabled in parliament on Tuesday by the State Minister for Internal Affairs Gen David Muhoozi, 69 suspects have also been arrested in connection with killings going on in the two districts Lwengo and Masaka. Some of these are going to be charged with terrorism and will help them security organs dig deep into the incidents.
In the nine-page report, Government says, the recourse to this reprehensible, immoral approach of killing Ugandans is
shallow and untenable and will be defeated. Deployment of additional security personnel to dominate the affected areas has also been effected in order to restore communal confidence and prevent escalation of the problem.
In response, Government says, Joint Security Forces have apprehended a number of suspects in Lwengo and Masaka District, whose cases are being processed for prosecution. Also, Joint operations with police in small squads are manning snap check points and searching for other suspects.
Security has also intensified intelligence for any related lead information as well as apprehension and checking motor cycles and motor vehicles moving at night for any suspected individuals. Security committees in the affected communities have been constituted and reinforcement of the police with additional boots on the ground with canine units and other technical capabilities activated.
In Bukomansimbi District, Gen Muhoozi said, intensified joint motorized patrols to instill confidence in locals especially in Kibinge and Kitanda Sub-Counties have been activated. The 4 suspects who were arrested in this area are; Gingo James, Ssemanda Daudi, Mawanda Musa and Kiganda Henry, all remanded to prison.
According to Muhoozi, their investigations are now focused on establishing the motive of the assailants whose executions he says are similar to those of terrorists. He adds that they have also instructed the investigation teams to critically study the trend of similar killings that have occurred in the sub-region as part of the government's efforts to find a lasting solution to the problem.
Government notes that the murders are not motivated by proprietary gain since nothing is token from the victims, and their intended effect is to cause fear, terror and apprehension in the public. The report cites use the same killing method of hitting the victims on the head with blunt objects and that the pattern of killing is also similar happening mostly between 20:00Hrs-22:00Hrs of night, by way laying the victims and, or attacking vulnerable people in houses.
In the report, government recommends need for provision of adequate logistics to intensify the operations within Masaka, Lwengo, Rakai and Bukomansimbi Districts in order to arrest the culprits and have them prosecuted.
Government also recommends regular mobilization meetings by security teams with locals as a way of instilling confidence in the communities and also enhancing information collection as well as dedication of Specialized investigation Teams from Kampala to handle case management properly and ensure those arrested are successfully prosecuted.
Reorganization of foundation security within the communities with all the critical strands of timely intelligence, coordination, communication and rapid reaction has been also recommended.
Senior Security Leaders have also been tasked by the NSC (National Security Council) to go to the affected areas on on
spot assessment and to work out on effective plan of action with the area district security agencies in order to decisively deal with this insecurity, bring the culprits to book, and return normalcy to the affected areas/ communities.
<