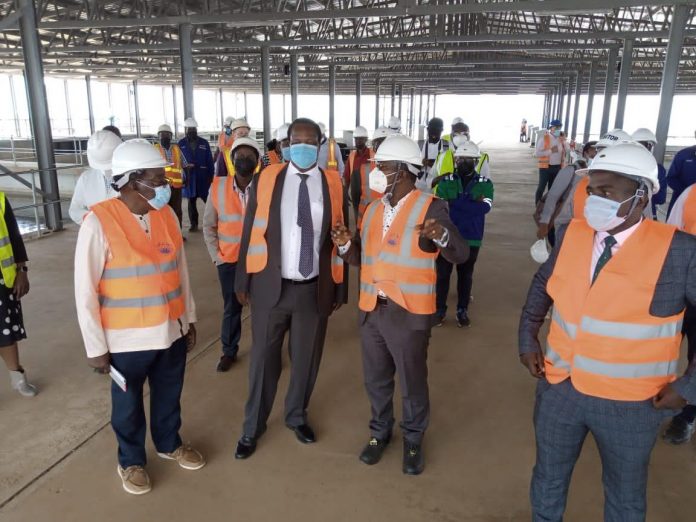 The Minister for water and environment Hon. Sam Cheptoris has committed that within the next six months, the National Water and Sewerage Corporation will have availed the community of Katosi with flowing safe water.
Minister Cheptoris made the commitment on Friday while he was inspecting the newly completed Katosi water treatment plant and officiating at the launch of (NWSC) Corporate plan 2021-2026 at Katosi, in Mukono District.
The government signed an agreement with the contractor of Sogea satom ltd to construct a 82 million Euro project complete to make an additional boost of 160 million litres of water in Kampala metropolitan but with a condition of supplying water to Katosi Town Council where the main treatment plant is located.
Construction of the plant under Katosi water project started in 2018 and was projected to be completed in April 2021 but occasioned delays due to COVID-19 pandemic. The project is aimed at improving water supply in Kampala and its surrounding municipalities was handed over to NWSC last month.
Katosi water project has the capacity to supply 240 million litres per day. Phase 1 of the project will produce 160 million litres of water per day targeting water stressed areas of Metropolitan Kampala.
NWSC Executive Director, Eng. Silver Mugisha, said that National Water has embarked on a campaign to create more water points in Kampala water area as a means to make water affordable to many and solve the issue of water vendors who sell water expensively yet they get it cheaply from NWSC.
NWSC has also introduced a corporate plan that will focus on improving customer service and increase in water and sewerage services coverage across the country.
Earlier, Mukono North Member of Parliament Hon. Fred Kayondo expressed disappointment over lack of piped water in Katosi and the surrounding communities yet the area hosts the plant.
Mugisha responded saying, their plan is extending water from katosi to other parts of Buikwe and Lugazi Municipality.
The new Plant will also house; A 500m offshore abstraction pipeline into Lake Victoria, a scada system that will be integrated with the existing NWSC installations, a modern laboratory to enhance water quality monitoring and management, a mechanical workshop, a compact wastewater treatment plant, a solid waste handling and incineration facility, a modern staff housing estate with modern amenities and recreation facilities.
To advertise on this website or send a story for publishing, please call 0701609906 or send mail to [email protected]
<