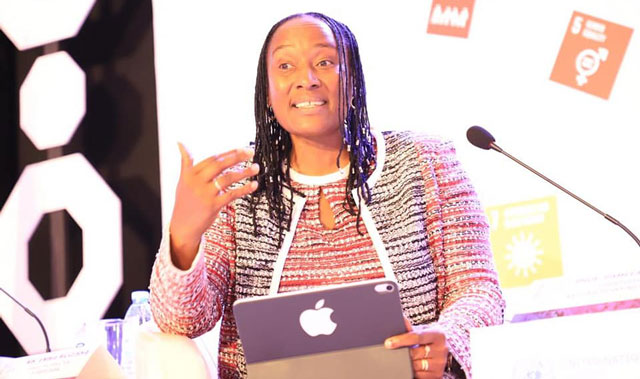 Monique Nsanzabaganwa of Rwanda has been elected Deputy Chairperson of the African Union Commission beating Uganda's Pamela Kasabiiti Mbabazi and Djibouti's Hasna Barkat.
Ms Nsanzabaganwa polled 42 votes from 55 African Union member sates in an election during the 34th ordinary session of the African Union Assembly held virtually.
Uganda's Mbabazi garnered 10 votes coming second while Hasna Barkat Daoud of Djibouti collected 2 votes. Mbabazi, 51, is the Chairperson of the National Planning Authority of Uganda.
The Deputy Chairperson is an elective position determined by two-thirds majority of Member States eligible to vote and the office runs on a four-year renewable term. Nsanzabaganwa will deputize Mali's Moussa Faki Mahamat who was also re-elected for a second four-year term.
This is the first AUC election since the AU's reform process started in 2017 under the guidance of Rwanda President Paul Kagame's executive. Faki who was running unopposed was re-elected by 51 with 3 abstentions.
The Deputy chair is an executive office and the bearer also takes charge of administration and finance. Nsanzabaganwa had campaigned on a promise to drive efficiency and accountability as well as financial sustainability.
She also laid out 5 priorities including leadership empowerment, strengthening accountability and transparency as well as to enhance the AU Commission's integrity, drive the reform of structural systems, and lead the organization's cultural transformation.
A 49-year-old mother of three holds a PhD in economics, Nsanzabaganwa has previously held multiple leadership roles including her immediate position as Deputy Governor at Central Bank in 2011. She previously served as Rwandan Minister of Trade and Industry, and Minister of State for Economic Planning.
Nsanzabaganwa is the second Rwandan to occupy the position, the first one being the late Patrick Mazimhaka, who was elected to the position in 2003 until 2008.
<