At least 11 people have been confirmed dead and five others seriously injured in a nasty accident involving five vehicles along Fort Portal – Kasese road on Tuesday.
The accident occurred at Kihogo along Hima – Rugendabara road, along a section of the highway still under re-construction. The accident involved 5 vehicles -Two lorries one of which was transporting mourners, a Premio salon car and a Toyota Hiace minibus.
One of the survivors, Moris Kikwamimbi told our reporter that they were travelling from Bundibugyo District in a Canter registration number UAU 457F that had about 25 passengers on board heading to Maliba Kemihoko. As they approached UNRA weighbridge at Kihogo cell, they collided with a speeding Premio registration number UAU 700 U.
The cause of the accident is not clear but Mr Martin Katende, a driver who was travelling from Mpondwe to Tororo blamed the contractor of the road for not erecting warning signs on the road especially where heaps of sand and other road materials have been dumped on the roadside.
An eyewitness said the lorry with a coffin first hit another car and the lorry full of people which was following closely behind also rammed into it causing another accident. He added, in a short interval, other two vehicles came and also rammed into the wreckage of the first accident cars.
Bodies of the victims and the injured have been taken to Kilembe Mines Hospital.
Rwenzori East regional traffic commander, Mr Mathius Okwir said detectives were investigating the actual cause of the accident and would provide details later.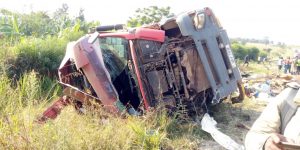 Mr James Muranga, the Kihogo village chairperson local council I said the truck was transporting mourners from Bundibugyo en route to Maliba sub-county for burial when the accident happened.
Ms Irene Nakasita, the Uganda Red Cross Society Public Relations Officer, said the bodies were recovered and five survivors referred to Kilembe Hospital in Kasese District in western Uganda.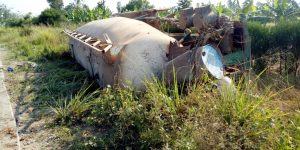 "The canter driver and another mzee died on spot while the other passengers jumped out of the canter and tried to run. However, a lorry owned by Umeme, registration number UBF 968Y, arrived and as they (Umeme people) were still inquiring whether there were people who needed immediate help, two speeding trucks for Hima cement factory registration number UAY 793E and UAY 836Y rammed into other vehicles and some residents who had gathered at the scene," an eyewitness said.
<