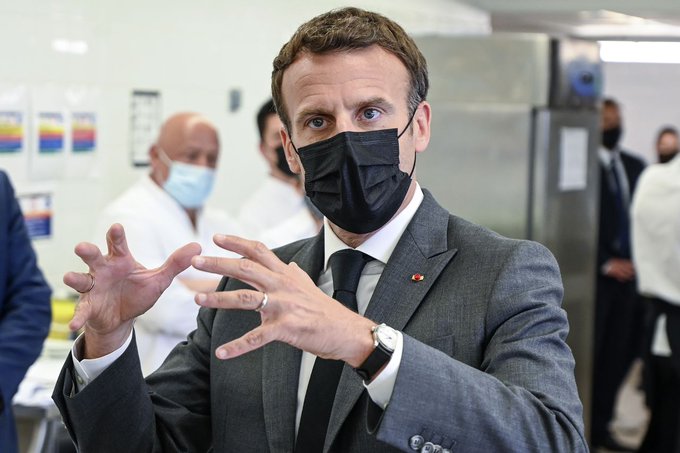 French President Emmanuel Macron was slapped in the face Tuesday by a man during a visit to a small town in southeastern France, an incident that prompted a wide show of support for the head of state from politicians across the ideological spectrum.
The French president was greeting the public waiting for him behind barriers in the town of Tain-l'Hermitage in the South Eastern region of Drome. A video of the incident was posted to Twitter shows Macron going up to the line of purported supporters before a young man grabbed his right arm and slapped him in the side of his face.
Members of the Security Group for the Presidency of the Republic — the equivalent of the Secret Service, promptly intervened pulling Macron away from the small crowd and grabbing two 28-year-old men.
French media have reported that the suspects have been arrested and face three years in prison and a $50,000 fine for attacking a public official.
The two men who were arrested were associated with the populist yellow-vest movement. Though the protests that began late in 2018 involved dissatisfied people from across the political spectrum, the man who slapped Macron yelled, "Saint-Denis, à bas la Macronie!" As NPR notes: "Part of the phrase is a 12th century royalist slogan that today has become a rallying cry of the far right. The other part means 'down with Macronism.'"
The development naturally dominated the French news cycle as outlets questioned if Macron had enough security, or if he had taken a risk because the stop was not planned. Macron, for one, said on Tuesday that he did not intend to stop meeting with the public and that "everything is fine."
Macron, a former investment banker, is accused by his opponents of being a part of a moneyed elite aloof from the concerns of ordinary citizens.
In part to counter those allegations, he on occasion seeks out close contact with voters in impromptu situations, but this can throw up challenges for his security detail.
Macron described the incident as an "isolated act" in an interview with local newspaper Le Dauphine Libere but the insulting gesture to the head of state had been pulled off.
In recent weeks, the French president has again made public meet and greets a part of his schedule as he encourages a return to pre-pandemic.
"Everything goes well … We must not let isolated acts, ultra-violent individuals, like there had been some also in (street) protests, dominate the public debate: they don't deserve it," he said. Macron said he didn't have specific concerns after the assault.
"I greeted the people who were by the man's side and made pictures with them. I continued and will continue. Nothing will stop me," he said.
Check out the video:
https://twitter.com/i/status/1402481644057989121
<