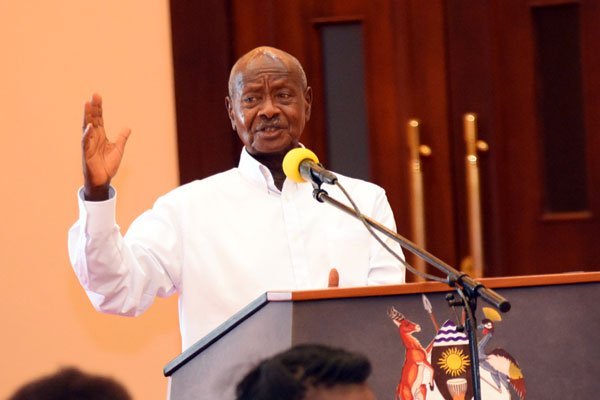 Uganda's president Yoweri Museveni has rallied African leaders towards ending the balkanization of the African people as a means to guarantee the safety and total liberation of the black race.
Museveni's call came through his message at the 41st National Heroes Day celebrations held today in Uganda's capital Kampala under the theme; "our heroes and heroines: an opportunity to consolidate our efforts in securing Uganda"
In Uganda, the National Heroes Day falls on 9th June in commemoration of the date in 1981 when nine people including Edidian Luttamaguzi, sacrificed their lives to protect Museveni and his NRA rebels during the 1981-1986 Ugandan bush war that later ushered the NRM government into power.
"Countrymen, Countrywomen and the Bazukulu. Greetings. I congratulate you all for reaching the 41st Heroes' Day Celebrations" Museveni who missed the celebrations at Kololo Independence Grounds for a security meeting in Northern Uganda, posted on Twitter.
"I equate the heroism & valor of the 9 NRM supporters, who were brutally hacked to death by Bazilio Okello at Kikandwa, to that of the Uganda Martyrs. These 9 heroes were: Edidian Lutamaguzi, Nkangirwa Matayo, Sentogo Sebastian, Gitta, Kibuuka, Kirumira Edrisa, Sebowa & Kibirige. It was in honor of the memory and legacy of these patriots; and many others, that we declared the 9th of June, a Heroes' Day" he stated.
A strong proponent of integration of African states, Museveni noted that the event should remind the African freedom fighters that the safety and security of a black race will remain in jeopardy as long as Africans continue to glorify the small and weak African states.
"I also want to use this occasion of Heroes' Day to remind the African freedom fighters that our safety and security as a black race remain in jeopardy as long as we continue to glorify the small and weak African states. We must end the balkanization of the African people to guarantee their security and total liberation. I thank you all and wish you happy Heroes' Day Celebrations." Museveni said.
In a recent State of the Nation address, Museveni rallied African nations to harness local production using the abundant natural resources in order to avoid a new form of modern slavery orchestrated by the world's developed nations through continued export of raw materials from Africa, leading to the stagnation of the continent.
He noted that that the NRM opposed this hemorrhage from the beginning and continue to oppose it in all the raw materials like milk, cotton, skins and hides, timber, iron ore (obutare), copper (ekikomo), gold, tin, lithium, wolfram, petroleum, etc.
At today's event presided over by the Prime Minister Robinah Nabbanja, over 81 medals in different categories will be awarded to selected national heroes as per the norm during similar events.
According to the Medals and Honors awarding committee, over seventeen thousand two hundred twenty six medals have been awarded to exemplary nationals and non nationals who deserved honor and recognition.
<