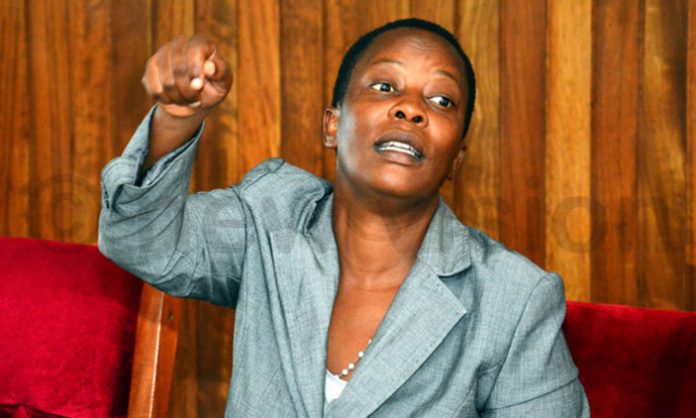 Mukono Municipality MP Hon Betty Bakireke Nambooze has said it was naivety for voters in Kayunga to believe that the deceased district chairman Muhammad Ffefeka Serubogo could preside over an area rife with conflicting interests involving 'strong powers and anti-Buganda' forces.
Ffefeka Serubogo, a newly-elected district chairman for Kayunga, was found dead on Wednesday morning with his lifeless body hanging on a tree and a rope tied around his neck.
In a message posted on her social media account, Nambooze claims that being a Muganda and a strong supporter of Buganda Kingdom, it was inevitable that Serubogo could not lead an area where anti-Buganda forces have huge interests.
Nambooze said, in the first place, she was surprised by Ffefeka's election victory in a district "which was signed off" from Buganda -as if to imply that Kayunga is under the administration of 'some authority' and ceased to be under Buganda Kingdom administration.
"I was surprised when Fefeka Sserubogo won the Kayunga elections. That district was forcefully signed off Buganda and he has been a known loyal servant of the Kabaka (King of Buganda) through and through" She wrote.
As if asking the deceased, Nambooze adds: "We were just naive… how could we expect you to preside over the land where the Kabaka was declated persona nongrata?"
An opposition National Unity Platform (NUP) member, Serubogo took over the leadership of Kayunga District following a hotly contested election conducted early this year. Kayunga district, however, is an epicenter for land wrangles in Central region, involving powerful individuals both in and out of government.
Whereas police investigations have kicked off to ascertain the facts behind Ffefeka's death, Nambooze claims that his death is connected to land wrangles in Kayunga district, citing various fraud cases that arose during a short period Sserubogo has been in office.
A strong feudalist and member of the Buganda Kingdom Lukiiko, Serubogo has severally spoke against land grabbing and strongly agitated for Mengo's autonomy.
Nambooze desribed Serubogo as a "fearless fighter and a great son of Buganda."
Suspecting foul play, NUP spokesperson and Nakawa East MP Hon Joel Ssenyonyi also ruled out suicide in Serubogo's sudden demise. Ssenyonyi implored police to conduct swift investigations into the death.
"We suspect Serubogo was killed before he was hanged on the rope because he has been fighting land grabbers in the district" he posted on his social media account.
<