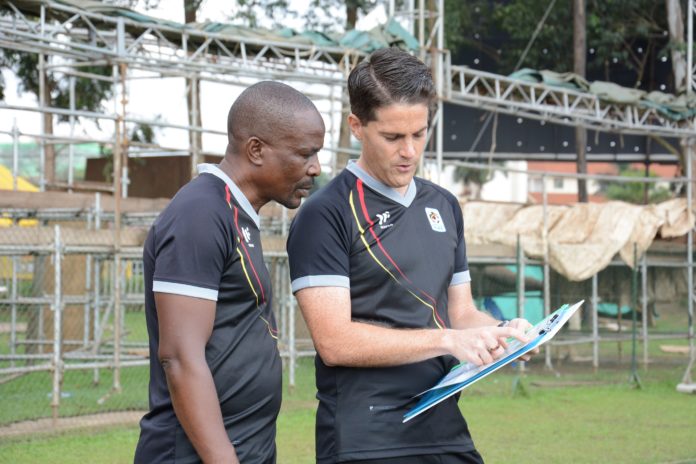 The Federation of Uganda Football Association (FUFA) has sacked the Head Coach of the Uganda Men's National team Mr Johnathan McKinstry, ending his 18 months tenure at the helm of the Uganda Cranes.
According to a statement posted released on Monday, the services of the Irishman are terminated effective today.
"The Head Coach of the Uganda Men's National team, Johnathan McKinstry, has today reached an agreement with FUFA to bring an end to his 18 months at the helm of the Uganda Cranes." the statement reads.
"FUFA would like to thank Coach McKinstry and his staff for the work and dedication to developing the Uganda Cranes during their tenure" the statement adds.
The 34 year old tactician was appointed Uganda Cranes head coach in 2019 on a three years contract replacing Sébastien Desabre who parted ways with Uganda at the end of the 2019 Africa Cup of Nations in Egypt.
Coach McKinstry departs Uganda having won 2 in every 3 games played, recording a 67% WIN rate from the 18 games he has overseen – including 12 wins, 3 draws and only 3 defeats.
In addition to this, Coach McKinstry guided Uganda to victory in the CECAFA Challenge Cup 2019 where Uganda won all of the games contested, for only the second time in their history.
"We would like to thank Coach McKinstry for the professionalism demonstrated during his employment with FUFA, and we wish him well in all his future endeavors." FUFA stated.
McKinstry has previously coached Sierra Leone and Rwanda in Africa, and SAIF Sporting Club in Bangladesh.
Mckinstry's dismissal follows the Cranes dismal performance at the concluded 2020 Africa Nations Championship in Cameroon where Mckinstry's side failed to get out of the groups for a fifth attempt.
Mckinstry was highly criticized for his poor team selection, including playing some players out of positions like Shafic Kagimu.
Uganda finished at the bottom of Group C with just a point thanks to the draw against Rwanda and two defeats against Morocco and debutants Togo.
Last month, FUFA Executive Committee asked McKinstry to step aside from managing and coaching the team up to 31st March 2021. Assistant Coaches Mr. Mubiru Abdallah, Mr. Mbabazi Livingstone and goalkeeping coach Mr. Kajoba Fred have been in charge of the team during this period.
The period according to FUFA was to assess and monitor the performance of the national team.
<